It's that time of the year. The biggest happening for us PowerPoint Nerds – the annual conference The Presentation Summit – aka PowerPoint Nerd Camp. Now, the host of the conference, Rick Altman, would point out that this conference isn't just about PowerPoint – and he is absolutely right (*) – but many of us patrons come here for the PowerPoint stuff.
This is the opportunity to exchange ideas, thoughts, learn from other PowerPoint experts and come back home to our own agencies and departments, enriched and wiser and ready to spread our new knowledge and expertise with clients and co-workers. As there is no official manual for PowerPoint (one of the most important business tools), this conference functions as a live manual, where each participant brings years of experience to share with the community (and for the rest of the year – join the Presentation Guild for ongoing conversations about PowerPoint best practice and solutions) and you have a chance to ask Microsoft's PowerPoint team questions about specific corporate PowerPoint software and template features.
This year is my 12th year of participating and every year I come back to Presentitude® with new insights, added knowledge and a stack of amazing tricks. So now if you´ll excuse me – I will dive into PowerPoint nerding for the next few days. Dear clients, rest assure, I'll get right back to you when camp is over to help you use PowerPoint even more efficiently.
(*For the record – not only can you pick up invaluable PowerPoint skills at The Presentation Summit – there are three parallel tracks – Build, Design and Deliver during the Four Days of Magic).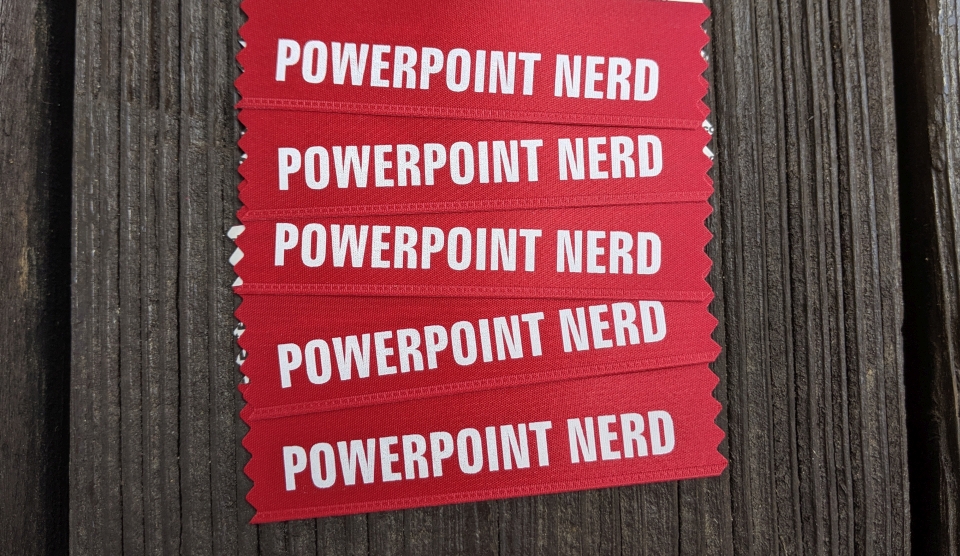 (Are you a fellow PowerPoint Nerd at The Presentation Summit and want to display it proudly on your badge – find Johanna Rehnvall and we'll share a badge ribbon with you).