Our favorite stock photo site Shutterstock has launched a new add-in for PowerPoint – Shutterstock Images. The add-in lets you search, preview, and insert images from Shutterstock's photo collection directly into your PowerPoint.
The app can be installed from the Microsoft App Store and after has been installed , it is handily available inside of PowerPoint on the Insert Tab – > My Add-Ins drop down menu. We had some initial issues to get the add-in to show up in the list of add-ins for Office at first (link to help here), but once that was solved, it was quickly up and running.

When the app is opened it is fixed on the left hand side of the PowerPoint screen and you can use the categories presented or search freely for illustrations or photos. You can expand the app area to make the thumbnails bigger as you are searching.
You can try watermarked images before you make a decision to buy or use your Shutterstock subscription. Once you buy you can choose from three different resolutions, small, medium and high. If you have a slide layout with a picture placeholder open, the app will nicely place it in a picture placeholder.
If you are in a standard template, the new function "Design Ideas" (only 2016) will open to give you suggestion on how to place the image if you are out of ideas.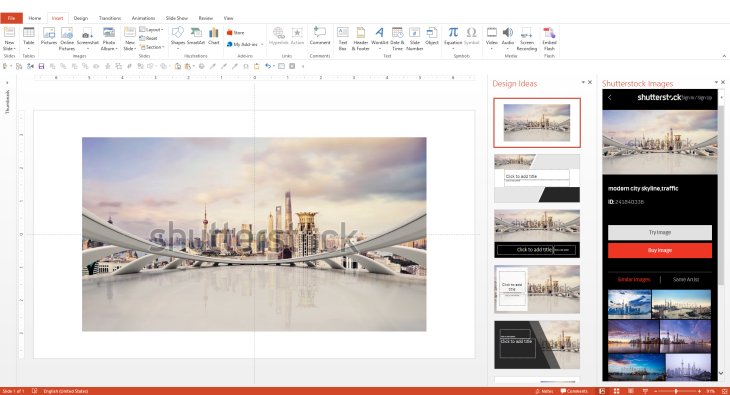 If you are one of the first 25,000 people to download the app you get one image free (we were, yeah!). We picked a retro microphone that we'll use in a future post!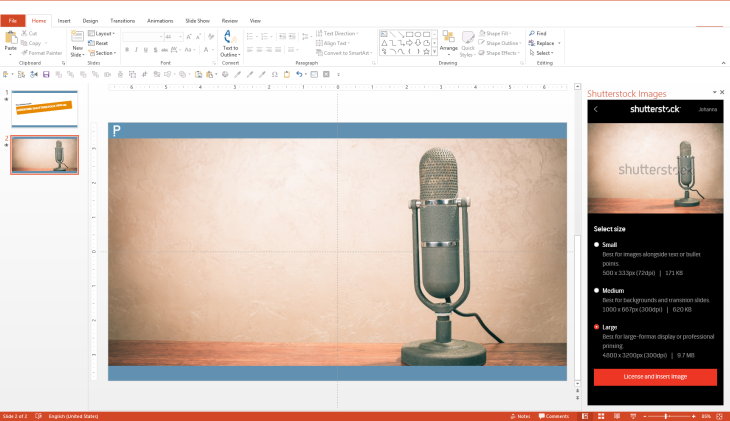 I can't find a way to access my already purchased images on the Shutterstock website. The photo ID can't be used in the search box, but if you can fetch the title of the image on Shutterstock.com and use that for search – you might find the image as a search result. I didn't have any luck using my subscription to download previous purchased images however (might be a bug as I got a list of about 20 different subscription licenses to use – hopefully this will be fixed in future editions!). You can't download any graphics – only photos and illustrations. But – if you are a Shutterstock subscriber or regularly purchase stock photos, this should be a great add-in. You only open it when you need it so it's not taking up any space when you are not searching for images.
Regardless of some of the issues we encountered – we really love new, practical add-ins that will help PowerPoint users become more visual. And – as Shutterstock reminds the users in the app – using licensed images gives you correct permission to use and will compensate photographers and artists.

MORE RESOURCES ON THIS TOPIC
link Shutterstock's Story about the app. Read here.
link The Shutterstock Add-in in the Microsoft Store.
link Shutterstock teams up with Microsoft to beautify PowerPoint presentations, The Next Web, May 18, 2016. Read here.