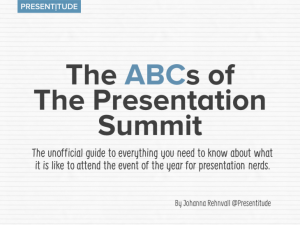 For 7 years in a row we have been participating in the yearly Presentation Summit conference, taking place every fall. Organized by Rick Altman of Better Presenting, it is a four day retreat for all presentation designers alike. After participating you come back inspired, full of wisdom, a smile on your face and can't wait for it all to start over again next year.
This year we summarized the Presentation Summit 2014 as ABC guide.
The ABCs of The Presentation Summit
The unofficial guide to everything you need to know about what it is like to attend the event of the year for presentation nerds.
ASSETS
If you don't have a presentation design asset folder, like Nolan Haims, Julie Terberg and Matt Stevenson taught you by now. Well. Your loss.
Go back to Go.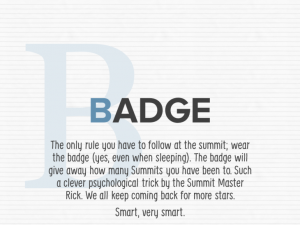 BADGE
The only rule you have to follow at the summit; wear the badge (yes, even when sleeping). The badge will give away how many Summits you have been to. Such a clever psychological trick by the Summit Master Rick. We all keep coming back for more stars.
Smart, very smart.
CONTEST
If you are lucky or smart you can win stuff at the Summit. The smart people compete in the PowerPoint Trivia. The lucky people hang around the prize train and win essentials for presentation designers. Like kisses from the Templafy team.
DUNN
Todd Dunn. Also known as "sound guy" if your name is SpeakerSue. For the rest of the patrons he is known as the true hero of the Summit. Without him there really wouldn't be anything to show.
Just saying, Sue.
ECHO
Echo Swinford rules the hard core Summit sessions with her shy and quiet personality.
No, just kidding. After one session with Echo you do not DARE to go back to create PowerPoint templates the sloppy way you used to.
Get your act together people!
FRIENDSHIP
Besides getting smarter at everything presentations, you will leave the Summit with new friends.
Real friends.
Who understand when you get crazy excited about learning how to nudge a chart in PowerPoint.
GURUS
There is an official unofficial guru session at the Summit every year – but really – all patrons coming to the summit are gurus in their own domain.
Spend five minutes talking to a new, random badge holder (regardless of # of stars) and you'll learn something new.
HELPDESK
Also known as the Oasis of the Summit. This is where ALL your questions on how to tame the wild animal PowerPoint will be answered by the smartest of the smart people.
Yes, ALL questions…
IDENTITY
Personal branding is the new thing. If you don't know what brand you want to be, at least after a Summit you can identify yourself as a Presentation Summit attendee.
After that you're pretty much set.
JOY
Attending the Summit is pure joy.
Enough said.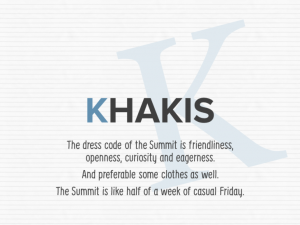 KHAKIS
The dress code of the Summit is friendliness, openness, curiosity and eagerness.
And preferable some clothes as well.
The Summit is like half of a week of casual Friday.
LEARN
Thought you knew it all? Sorry – you are wrong. You might think you are a presentation guru or a PowerPoint wiz. But. You. Will. Learn. New things at the Summit.
I can guarantee it.
MICROSOFT
The real heroes of the Summit are the brave people from the Microsoft PowerPoint Team that dare to meet the power users and still smile after four days of hearing complaints (and yes, praise too) (now and then).
What a cool group of people. #respect
NOLAN
Nolan Haims. Period.
No one can kick off a Summit with a keynote as simple as him.
#fansofNolan
OUTSTANDING
Is what you will be when you come back home from a Summit. Not only from having learned new tricks of the trade. But from feeling great, happy, inspired and ready to take on the world of presentations.
Let's go!
POWERPOINT & PREZI etc
(Unfortunately Keynote starts with a K, otherwise it would have been up there too). These are the tools we use to create great content with beautiful visuals.
PowerPoint is launched 370 million times a year.
The patrons of the Summit probably counts for half of those times.
QUIRKS
If you spend your days in front of presentation software, you know that are unexplained quirks to get them to do things you want.
The Summit is the place to share quirks and solutions over a Margarita. Which really beats throwing your keyboard to the wall of frustration if you ask us.
RICK
Rick Altman. Our Summit Master (and Master of File Maker Pro e-mails) who keeps it all together and literally makes the Summit a great family affair.
We are counting on him to keep bringing this class of presentations nerds together for the unforeseeable future (I want most stars of all!)
STAR WARS
There isn't a presentation that you can't use a Star Wars analogy in.
Ask Nolan Haims, Matt Stevenson, Garr Reynolds.
Present you can.
TEMPLATES & THEMES
Are you creating PowerPoint templates for your organization? This really is the ONLY time you can meet ALL the template experts in the same room at the same time.
You actually get to hang out with Echo Swinford and Julie Terberg who wrote the only PowerPoint template book in modern time. Actually in any time.
UBER
You might get Uber credit as part of your Summit package to "get around to sightsee". As if there would be any time. Ha. You will be completely busy attending sessions, winning prizes and hanging with other patrons.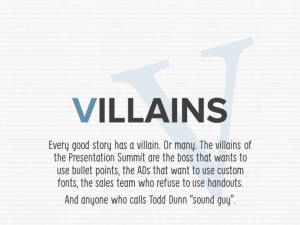 VILLAINS
Every good story has a villain. Or many. The villains of the Presentation Summit are the boss that wants to use bullet points, the ADs that want to use custom fonts, the sales team who refuse to use handouts.
And anyone who calls Todd Dunn "sound guy".
WOW
Summit Master Rick reserves space for notes in the Summit Guide for "when the speaker makes you go wow".
Which is good because you will.
NX POWERLITE
It is obvious that you need this smart little software to compress you huge, visual presentation files. There are not enough fingers on our hands to count the times NX was mentioned in different sessions.
(phew, we got X covered as well!)
YIDDISH
Yiddish has not been heard spoken at a Summit yet. However, you can hear languages like French, Spanish, Danish, Dutch, German, Swedish and Australian. So it's not just for loud Americans.
What? Australian is actually English??
ZEN
You don't really have time to relax and smell the roses (or bamboo) (does bamboo smell??) during a Summit. No Zen time.
But if you're lucky you will get to virtually "hang out" with Zen master Garr and his cat at a Summit.
ÅHH
We're throwing in an extra letter here (to totally mess up PowerPoint's lousy language settings – hear that Microsoft Team?!).
"ÅHH" is Swedish for "why is it so many days left until the next Summit in New Orleans??"
Want to experience it yourself? Check out www.presentationsummit.com. Next Presentation Summit will take place in New Orleans, September 27-30, 2015.