Microsoft PowerPoint 2013 comes with 23 color themes preinstalled. These can be used when you need to quickly apply colors to your presentation and don't have time to create your own color schemes.
In PowerPoint 2013 the color themes are sorted in color wheel groups, making it somewhat easier to find a suitable color scheme. The color schemes are organized from blue, green, yellow, red, to violet.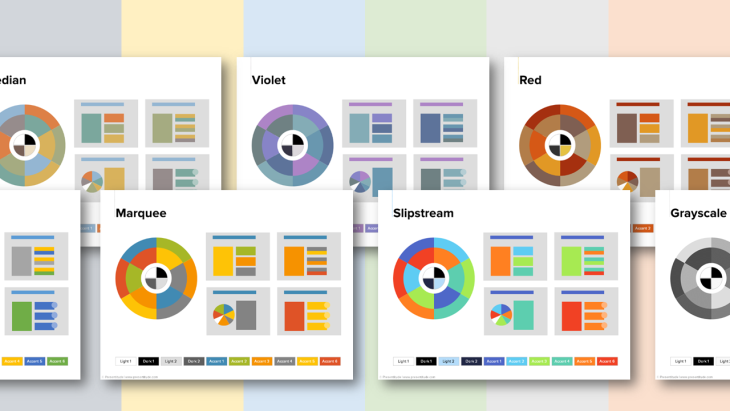 Interestingly, Microsoft got less creative when naming color themes for the 2013 versions compared to previous versions. The 2010 color themes had names like Equity, Couture, Pushpin and Technic. The 2013 schemes are fewer, and more basic with simple color wheel connected names like Green, Blue Green, Green Yellow etc.
Median, Paper, Slipstream and Aspect are four color themes that got to stick around in the 2013 version. Elemental, Flow, Trek, Equity and Verve are still around but got new names like Blue Warm, Blue, Yellow Orange, Orange Red and Red Violet.
To give you a quick overview over the 2013 color themes we have created a quick guide. Each color theme is presented with a color wheel with the accent colors around the dark/light colors in the center and four roughly mocked-up slides with the colors applied. Each color theme is shown on white and the mockup on the same light grey slide background for comparison.
(These color themes are only available in Microsoft PowerPoint 2013 and might vary with your version)